Cinema 3 Theatres is located at 623 S. Madison St,, Whiteville, NC. We are situated at the corner of East Main & South Madison Streets around the corner from the Vineland Railroad Depot.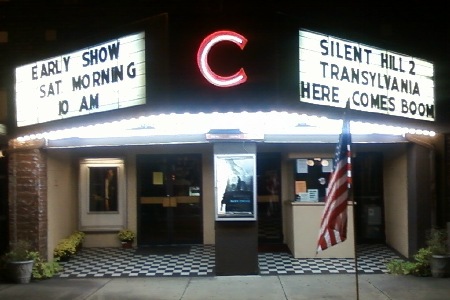 In brief, you should know the following about us: The CINEMA THEATRE, opened in November 1928. It originally was a one screen movie house with segregated balcony seating. As the theatres in nearby towns and counties closed, the CINEMA purchased the movie projectors and expanded to three screens; hence becoming the CINEMA 3 THEATRES. The theatre operated three (3) different 35mm features at one time, four (4) shows a day during the weekend and summers & three (3) shows on weekdays. We prided ourselves on providing outstanding friendly and courteous service. Our regular customers particularly valued the small hometown environment wherein movie night with the family was still affordable, complete with popcorn & drinks.

The Cinema 3 Theatres closed its doors on October 26, 2013.


Ticket prices:
Matinee shows (prior to 7:00 PM) $5.50 per person
Regular shows (after 7:00 PM)
Children ages 2 to 9 - $5.50 (Except for "R" rated features)
Adults ages 10 & up - $7.50